Rockett's New School
is a visual novel computer game developed and published by
Purple Moon
. The game was released for PC/Mac computers in 1997.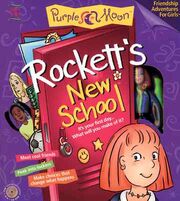 Plot
Rockett Movado enters Whistling Pines Junior High for her first year of grade eight. Her first acquaintance is none other than Jessie Marbella, a kind girl who's eager to help Rockett out on her first day. The choices the player makes from this point on determine whether or not certain events will happen, but no matter what the player chooses, Rockett will always end up going to her locker by herself. There she will meet the One's member Whitney Weiss and nerdy Mavis Wartella-Depew. Whitney says a few smart-alec things about Rockett's clothing, and before long, Rockett goes off to her first class, homeroom, with the cheesey, eccentric Mr. Baldus. During class, Whitney plops down next to Rockett. Wondering why Whitney's suddenly wanting to hang around her, Rockett inquires about Whitney's new behaviour. Whitney tells Rockett that her 'best friend,' Nicole Whittaker, has been spreading rumours that Whitney went mini-golfing with the dorky Arnold 'Zitbomb' Zeitbaum. The principal, Mrs. Herrera, arrives and instructs Rockett to come up to the front of the class and introduce herself. Rockett shares some of her interests, the class ends, and Rockett goes off to lunch. But lunch at Whistling Pines brings about crazy experiences including nasty stares from a girl dressed almost exactly like Rockett, 'bathtub-plug' hamburgers (as Rockett calls them), as well as the most obnoxious lunch attendant working behind the counter. After a bad-run in with the head of food services, Mr. Bill Pill, Rockett finds a place to sit (either with the One's, with kind musician Ruben Rosales or by herself), eats lunch, and then heads off to art class.
In art class, Rockett meets friendly super-student Miko Kajiyama and her friend Nakili Abuto. Another girl, Dana St. Clair, walks into the art room. Rockett realizes that Dana is the girl with the same outfit who was glaring at her during lunch. Mr. Rarebit, the art teacher, gives Rockett a tie-dyed shirt to keep from the paint bin to avoid any more confrontations about the whole outfit-scenario. Mr. Rarebit then appoints Rockett to the yearbook staff, after catching some of her art in action. Miko, who had been eyeing the position in the first place, senses favortism and becomes angry with Rockett.
Back in the girls' washroom, Rockett finds a notebook containing extremely private information about one of the cliques at school (the player doesn't find out until the third game). In the bathroom, Rockett makes peace with Miko. Just as the two girls leave, Rockett's best friend from her old school, Meg Durrand appears in the mirror, and an excited Rockett ends her first day at Whistling Pines.
Gameplay
Since the game itself acts like a visual novel, the player can flip through scenes at any time, as well as skip ahead to other 'chapters' in the story. The player can also access Rockett's backpack, a little extra in the game where the player can check messages from Rockett's friends, snoop through lockers, view her sketchbook, read notes or review her diary entries.
Credits
Designed by...Brenda Laurel
Written by...Pamela Dell
In Collaboration with...Convival Design
Developed by...Presage Software Development Company
Product Researched by...Interval Research Corp and Cheskin + Masten/ImageNet
Voice Talent
Rockett...Lindsey Anderson
Mavis...Audrey Chung
Mr. Baldus/Mr. Pill...Pat Flick
Nakili...Vanessa Holman
Meg...Alene Gabriel
Ginger...Ariana Getz
Wolf...Pedro Gomez
Dana...Hilary Hulteen
Chaz...Khafre James
Jessie...Jenna Johnson
Mr. Rarebit...Michael Edo Keane
Whitney...Morgan Kibby
Arrow...Kyra Kozlenko
Mrs. Herrera...Fannie Lee Lowe
Arnold...Taylor McCluskey
Stephanie...Anastacia McPherson
Ruben...Jacob Stacey-Schreier
Max...Ezra Stanley
Nicole...Jodie Van Horn
Sharla...Kristin Wheel
Cleve...Jeff Wiesen
Miko...Jasmine Yep