Rockett's Secret Invitation
is a visual novel computer game and the third installment in the
Rockett
series. It was developed and published by
Purple Moon
in 1998.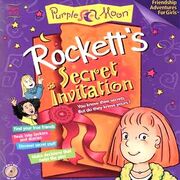 Plot
During the wintertime, Rockett receives an exclusive invitation to become an official member of one of Whistling Pines' most elite cliques, The Cool Sagittarius Girls! Problem is, Rockett is no Sagittarius. In fact, her birthday isn't even in December - it's in the summer. Rockett must decide whether or not to confront the group and tell them that the jig is up. Meanwhile, Ruben nervously struggles with whether or not he should give Rockett the present he bought her for Christmas. The choices that the player makes along the way determine the outcome of Rockett's situations, as well as whether or not she will even get into them. Detention, exclusion, acception - all of these Rockett very well may have to face just before winter break starts. What will you decide?
Truth Glasses
The truth glasses are a new feature made exclusive for Rockett's Secret Invitaion. The glasses will appear randomly in the bottom right-hand corner of the screen in the locker icon. When the player clicks, the scene will pause and the player will be transported to the Hidden Hallway, where they can search various lockers and listen for clues to find the glasses. Once the player has obtained the glasses, they can use them to read the thoughts of the characters.
Hidden Hallway
As with other Rockett games, the player can access The Hidden Hallway, at any time in the game to check out student's lockers, the yearbook office, and even the teacher's lounge.
Hidden Scene
To trigger the hidden scene, the player must select the options where Rockett is displaying the best attitude (confident choices) all throughout the game, until the very last choice. Upon choosing all of the confident choices, the player must choose the third option, which is the last choice in the game the player can make. A scene involving Ruben and Rockett will occur just after the final scene in the game.
Credits
Director...Lee Marrs
Sound Director...Lisa Kadet Kuhne
Associate Producer...Diane M. Papas
Creative Director...Pamela Dell
Producer...Paula Larsen Moore
Writer...Pamela Dell
Voice Talent
Rockett...Lauren Saffa
Viva...Jessica Fairwwell
Mavis...Audrey Chung
Mr. Baldus/Mr. Pill...Patrick Flick
Meg...Arlene Gabriel
Ginger...Ariana Getz
Wolf...Pedro Gomez
Bo...Matt Groshong
Nakili...Vanessa Holman
Dana...Hilary Hulteen
Jessie...Jenna Johnson
Whitney...Morgan Kibby
Arrow...Veronica Thaanum
Mrs. Tinydahl...Christianne Hauber
Arnold...Taylor McCluskey
Stephanie...Anais Morgan
Mr. Rarebit...Michael Edo Keane
Mrs. Herrera...Fannie Lee Lowe
Ruben...Jacob Stacey-Schreier
Max...Ezra Stanley
Nicole...Jodie Van Horn
Darnetta...Kashiko Omdahda
Sharla...Kristin Wheel
Jasmine Yep...Miko
Ms. Chen...Lorri Holt
Chaz...Khafre James